Thank you to Blendtec for generously providing the Designer 725 & Twister Jar for this giveaway! The recipe and opinions in this post are 100% mine.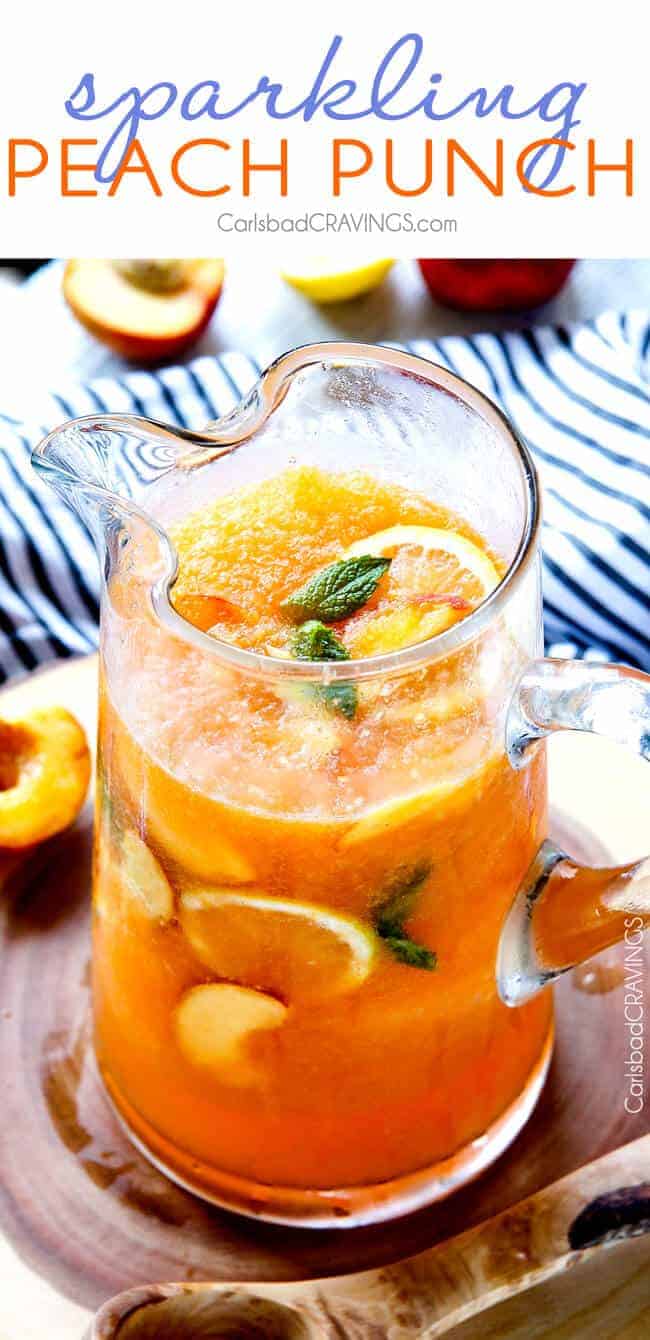 Introducing Sparkling Peach Punch (non alcoholic)  – vibrant, refreshing, flavorful and the perfect amount of slush!  I love making this for punch for baby/bridal showers and potlucks and everyone else loves it too! AND along with this crowd pleaser I have teamed up with some friends to bring you 9 Tasty BBQ Recipes You Can Make in a Blender AND a BLENDTEC GIVEAWAY!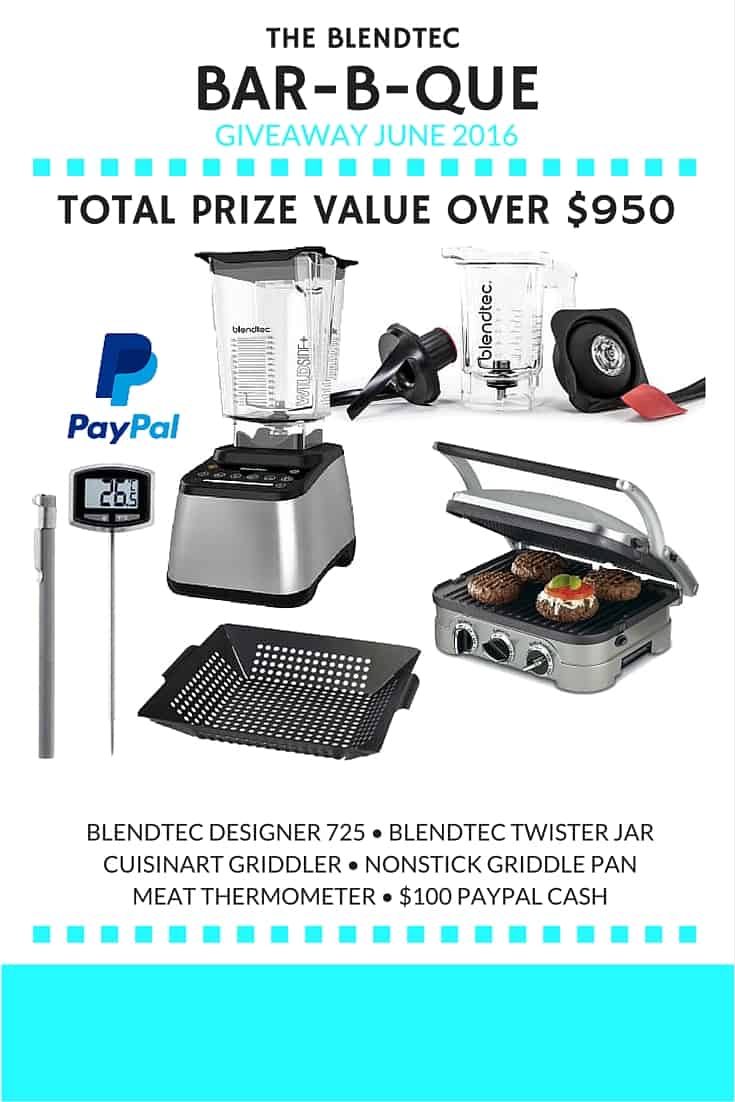 I was first introduced to Blendtec last August when I hosted the Best 5 Minute Blender Salad Dressing Recipes and was gifted my very own Blendtec to play with.  I was and am in quick and easy, efficient,  blending, chopping, pureeing heaven!  I had previously been using the same blender since I got married and my new Blendtec that works beautifully still makes me giddy.  So if kitchen gadgets that make your life easier also get you giddy, then head to the bottom of this post for a chance to win not only a Blendtec 725 but also a Cuisinart Griddler, Cuisinart Nonstick Griddle Pan and $100 Paypal Cash!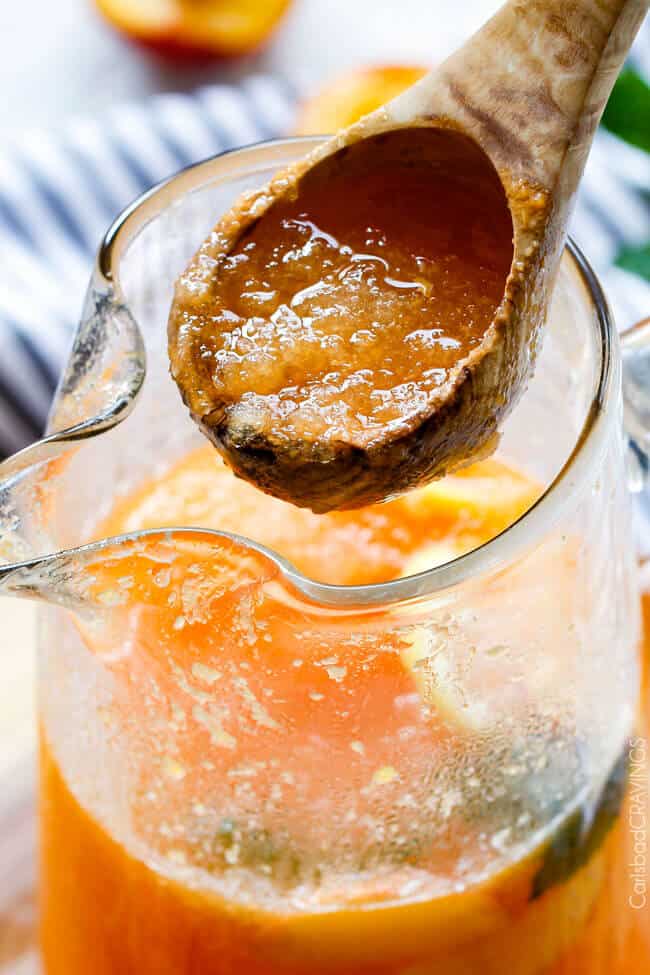 But……if you don't happen to be the lucky winner, I have a delicious consolation prize that will make you and your taste buds feel like a winner- thank you Sparkling Peach Punch!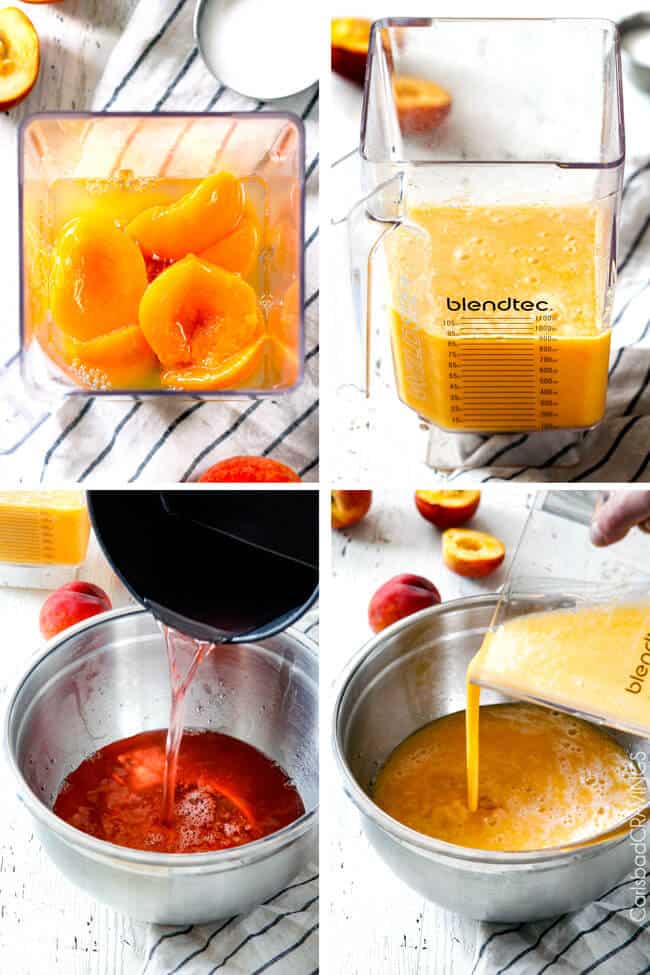 This punch is just one pureeing and one boiling step more than some of your throw together punches but it is so worth it and I love that you make it beforehand to freeze so come party time, its ready when you are for stress free. slushy entertaining.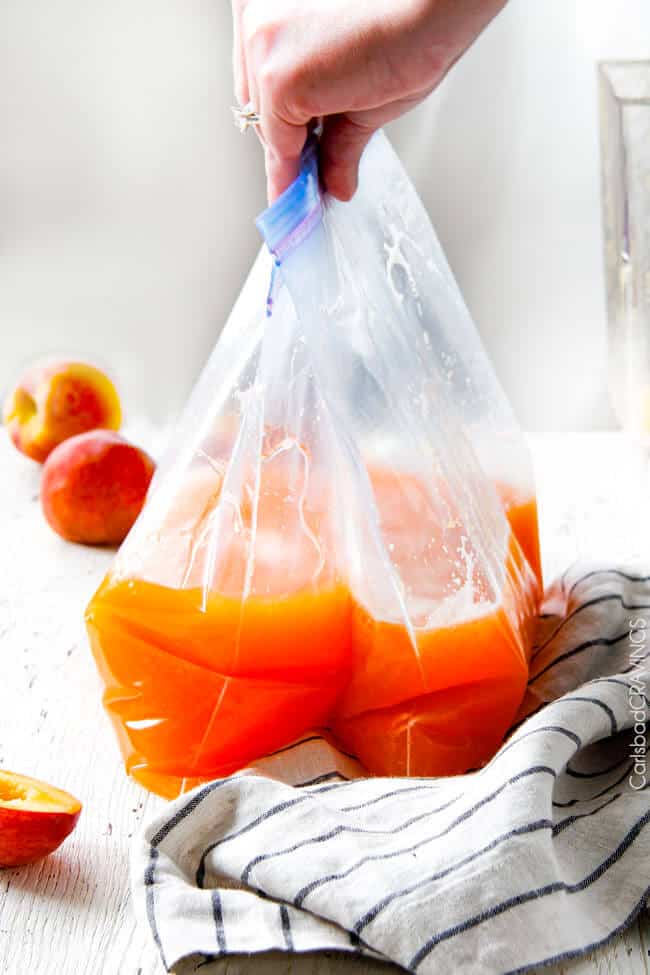 To make, blend peaches in blender until smooth.  Bring water, sugar and peach flavor gelatin (jell-o) to a boil then combine pureed peaches and gelatin mixture along with lemon juice and your favorite peach blend juice (I used a mango peach  – because you know mangoes) .  Divide into two freezer bags and freeze.  Come party time, remove one freezer bag (or two if you are going to partay), let stand at room temperature for about 1 hour, break into chunks and add 1 liter ginger-ale.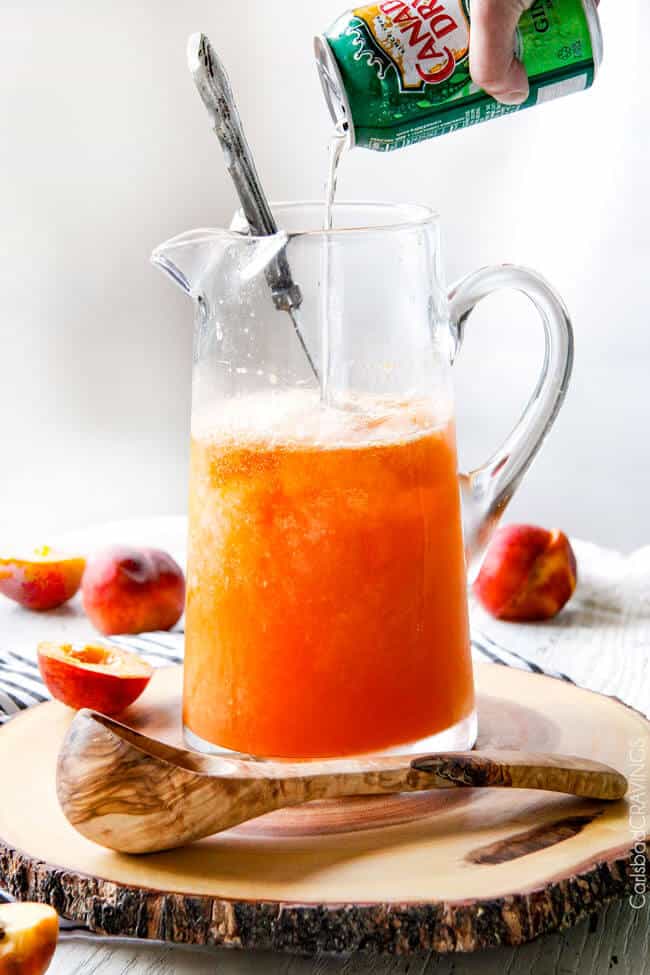 Stir until slushy.
And drink until cool, refreshed, and the ends of your mouth turn up in complete peachy summer satisfaction.  Thank you Sparkling Peach Punch.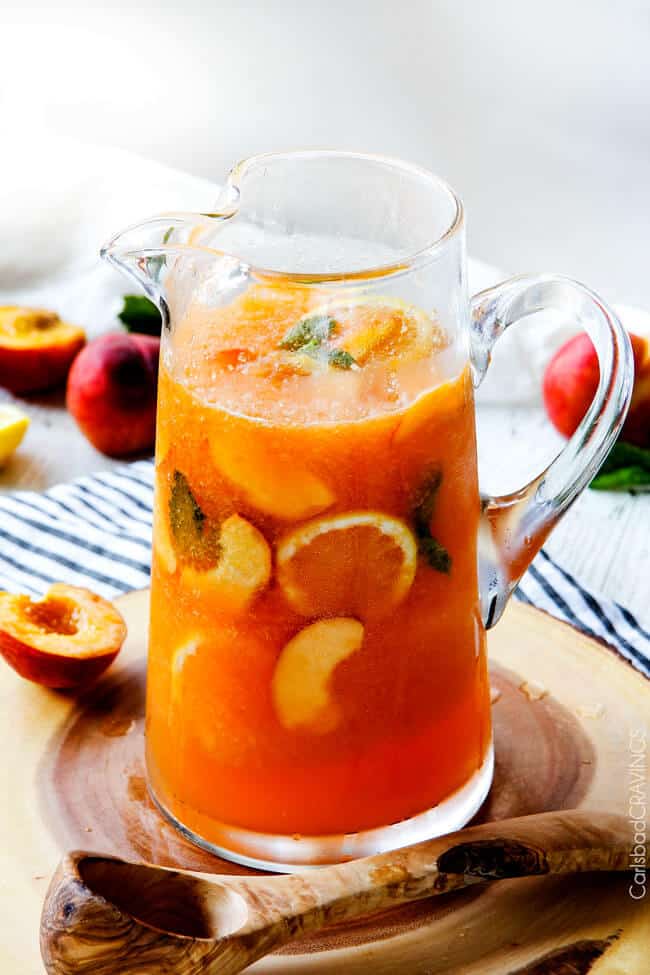 Have fun exploring the 8 other BBQ Recipes You Can Make In Your Blender below and GOOD LUCK entering the Blendteec Giveaway!  xo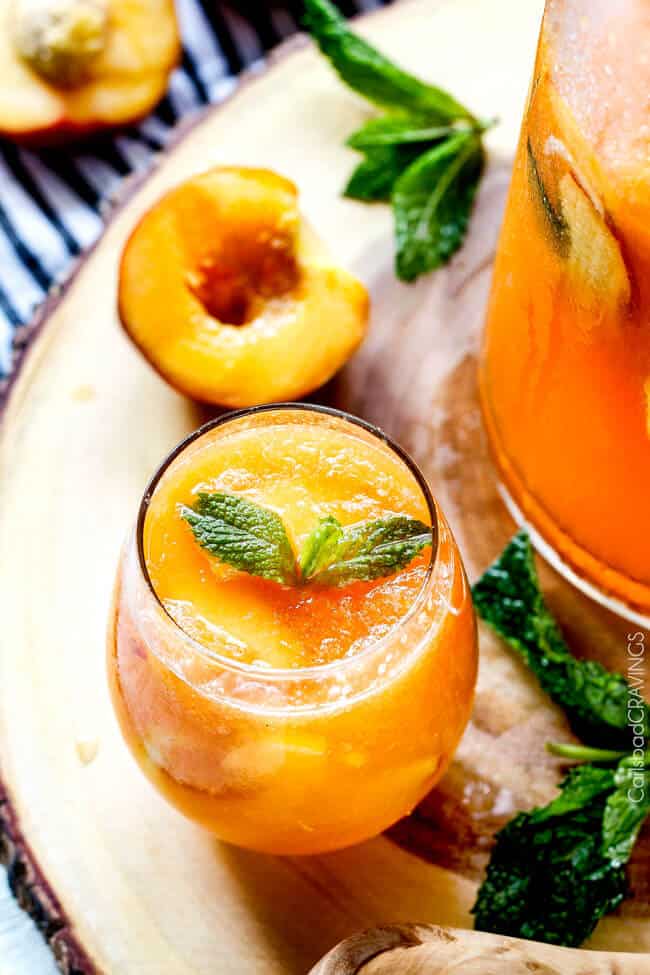 Want to try this Sparkling Peach Punch?
Pin it to your DRINKS or SUMMER  Board to SAVE for later!
Find me on Pinterest for more great recipes!  I am always pinning :)!
©Carlsbad Cravings by CarlsbadCravings.com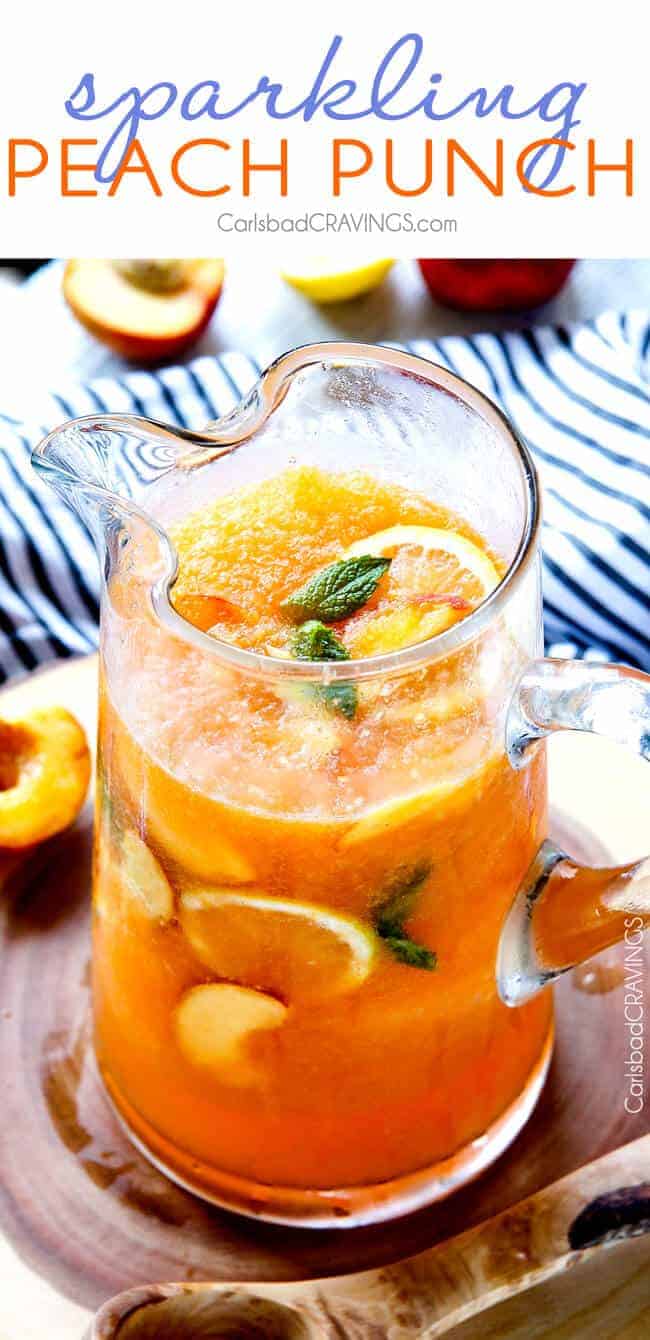 1

29 oz. can

peaches in syrup, not drained

3

cups

water

1 1/2

cups

sugar

1

3 oz. pkg

peach flavor gelatin (Jell-0)

5

cups

peach juice blend

*

1/2

cup

lemon juice

2

liters

ginger ale, chilled**
1

29 oz. can

peaches in syrup, not drained

3

cups

water

1 1/2

cups

sugar

1

3 oz. pkg

peach flavor gelatin (Jell-0)

5

cups

peach juice blend

*

1/2

cup

lemon juice

2

liters

ginger ale, chilled**
Add peaches to your blender and puree until smooth. Set aside.

Add water, sugar and gelatin to a large saucepan and bring to a boil, stirring until sugar and gelatin dissolve. Add to an extra large bowl along with pureed peaches, peach juice blend and lemon juice. Stir to combine.

Divide mixture between 2 large freezer bags and freeze for 8 hours or until firm. May freeze for up to 1 month.

When ready to serve, remove 1-2 freezer bags from freezer and let stand 1 hour. Add to punch bowl(s) or pitcher(s) and break into chunks with a fork. For each container of frozen peach mixture, stir in 1 liter ginger ale. Stir until slushy and sere immediately.

Optional: Garnish with sliced peaches lemons and mint.
*Any juice blended with peaches will work beautifully. I used a mango-peach juice.
**In the picture I show a can of ginger ale but note you will need 2 LITERS (my store was out of liters, so I used the equivalent in cans.
*Prep time does not include freezing time as this will vary between individuals.
Carlsbad Cravings© Original
NEVER MISS A CARLSBAD CRAVINGS CREATION: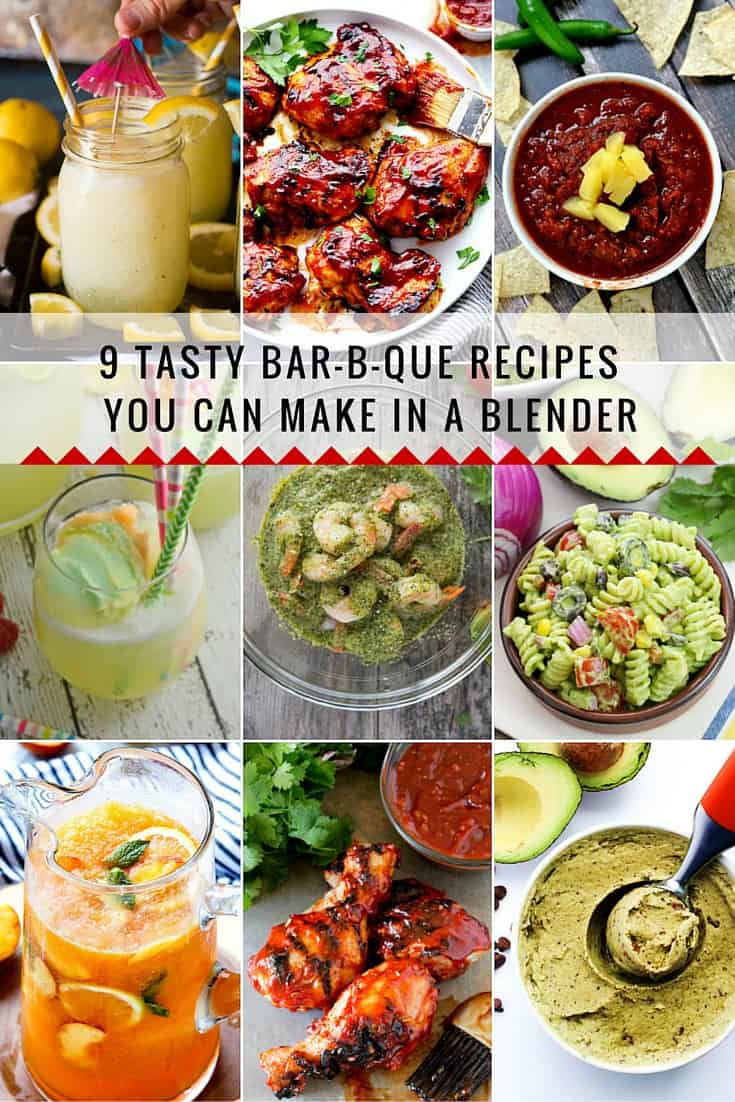 Frozen Lemonade Drink | Tastes of Lizzy T
Honey Chipotle BBQ Chicken | The Recipe Critic
Cantina Pineapple Salsa | My Suburban Kitchen
Frozen Limeade Sherbet Floats | Savory Experiments
Cilantro Honey Lime Marinade | Tried and Tasty
Avocado-Cilantro Pasta Salad | Love Bakes Good Cakes
Sparkling Peach Punch | Carlsbad Cravings
Hickory Smoked BBQ Chicken Drumsticks | The Stay At Home Chef
Mint Chocolate Chip Avocado Ice Cream | A Dash Of Sanity
This Giveaway is now closed.