This German Chocolate Cheesecake is show stopping Christmas worthy! I've also included very detailed instructions so even if you have never made a cheesecake before, it will turn out PERFECT every time!

I've saved the best for last.

In anticipation of Christmas, I've loved sharing easy neighbor desserts like Crockpot Chocolate Peanut Clusters and Pistachio Chocolate Pretzel Bark, but now it's time for the main event – the Christmas dessert that your family and friends will be talking about, begging for and dreaming of for years to come. It's time for German Chocolate Cheesecake.
Now before you scroll down and get intimidated by the long instructions, let me say the instructions are simple yet detailed to ensure you end up with a leak-proof and crack-free cheesecake. Making a cheesecake is easy when you know exactly what to do and I love that it tastes even better after 24 hours so you can make it a day in advance before all the hustle and bustle of Christmas. So please, bake on!
What is German Chocolate?
This German Chocolate Cheesecake is luxuriously rich and creamy made with German chocolate, semi-sweet chocolate and cocoa powder. If you aren't familiar with German chocolate (and haven't read my German Chocolate Cupcakes with Chocolate Ganache post AKA another FABULOUS Christmas dessert), then let me share that German Bakers Chocolate has nothing to do with Germany but is named after Samuel German, a Walter Baker & Company employee who developed the chocolate in 1952. German chocolate is sweeter than semi-sweet chocolate and is famous for German Chocolate Cake with its Coconut Pecan Frosting.

And that Coconut Pecan Frosting is what makes this German Chocolate Cheesecake truly magical. The delectable sweet and sticky Coconut Pecan frosting is made by toasting our coconut and pecans together in the oven. Next, we whisk together egg yolks, brown sugar, evaporated milk, and butter and simmer until thick enough to coat the back of a spoon to create a gooey caramel like base to which we add our toasted coconut and pecans. Hello deeeeelicious.

Now we pour half of our chocolate cheesecake batter into our pan followed by about 2/3 of our Coconut Pecan Frosting and top with our remaining cheesecake batter. We save the rest of our frosting to smother all over the top of our baked and cooled cheesecake and then finish off with more toasted coconut.


You can refrigerate you German Chocolate Cheesecake at this point or drizzle with chocolate and serve. You will want to drizzle with chocolate right before serving as it gets brittle when refrigerated.

Now all that's left is to dig into that indulgently creamy, chocolaty cheesecake bursting with caramel-esque toasted coconut and pecans…
Because it's Christmas. And because your diet doesn't start until January 1st.
LOOKING FOR MORE CHEESECAKE RECIPES?
Looking for more holiday dessert recipes?

WANT TO TRY THIS GERMAN CHOCOLATE CHEESECAKE?
Pin it to your DESSERT, CHRISTMAS or CHOCOLATE Board to SAVE for later!
Find me on Pinterest for more great recipes!  I am always pinning :)!
©Carlsbad Cravings by CarlsbadCravings.com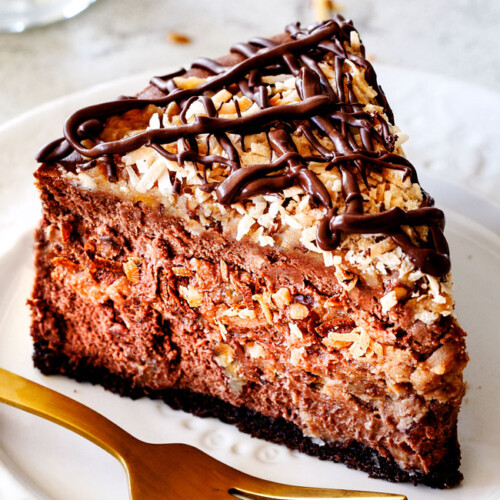 German Chocolate Cheesecake
Decadently rich and creamy German Chocolate Cheesecake stuffed with a hidden layer of caramely,  crunchy Coconut Pecan Frosting and smothered with another layer on top!  This Cheesecake is show stopping Christmas worthy!  I've also included very detailed instructions so even if you have never made a cheesecake before, it will turn out PERFECT every time!
Total Time:
2

hours
15

minutes
Cook Time:
1

hour
15

minutes
Save This Recipe To Your Recipe Box
You can now create an account on our site and save your favorite recipes all in one place!
Ingredients
Instructions
PREHEAT oven to 350 degrees F.

WATERPROOFING STEP 1 (optional but HIGHLY recommended): Place 9" springform pan in the center bottom of a slow cooker liner or oven bag. Bring the liner bag up to the top of the pan then gather excess to one side and tie it in a knot.

WATERPROOFING STEP 2 (do this over liner even if you have already done step 1 for double coverage): Place 2 large 18″ x 18″ pieces of aluminum foil on a flat surface underneath the pan in the form of a "+." Gently fold (to make sure you don't create any holes) up the sides of the foil around the (lined) pan.

GREASE: Line bottom of pan with parchment paper and lightly grease the inside of your entire springform pan with nonstick cooking spray.

CRUST: Combine the CRUST ingredients in a medium bowl and stir until well combined. Add to springform pan and firmly press the crumbs down on the bottom of the pan until you have an even layer. (I like to use the bottom of a measuring cup to press down.) Bake at 350 degrees F for 15 minutes. Remove from oven and cool completely on a wire rack.

TOAST COCONUT AND PECANS: Add coconut to one half of a large jelly roll pan and pecans to the other half. Bake for 12-15 minutes at 350 degrees F (you can bake with your crust), stirring occasionally, until coconut is golden and watching closely towards the end as coconut turns very quickly. Remove from oven and transfer pecans to cutting board. Once cool enough to handle, roughly chop pecans. Set aside.

COCONUT PECAN FILLING: Meanwhile, whisk the egg yolks, evaporated milk and brown sugar together in a large saucepan. Add butter and cook over medium high heat until the sugar dissolves and the butter melts, stirring constantly. Bring to a gentle simmer then turn heat down to medium. Continue to cook, stirring constantly, until thick enough to coat the back of a spoon, approximately 8 minutes. Remove from heat and stir in vanilla, salt, chopped pecans and 1 ½ cups coconut (save remaining ½ cup coconut for topping).

WATER BATH: Fill a roasting pan with 1 ¼ inches water to create a water bath for your cheesecake (to prevent cracking). Place roasting pan in the oven to heat while you prepare your cheesecake filling.

CHEESECAKE FILLING: Add German chocolate and semi-sweet chocolate to a medium bowl and microwave at 50% power at 30 second intervals, until completely melted, stirring after every 30 seconds. Set aside.

Add cream cheese to the bowl of an electric mixer fitted with the paddle attachment and beat on medium speed until light and fluffy, about 4 minutes (no less!). Add sugar and beat 3 additional minutes.

Add cocoa powder and cinnamon and beat until combined. Add the sour cream and vanilla and beat just until blended. Add the eggs, then the egg yolk, 1 at a time, beating as little as possible, just until combined after each addition. Stir in melted chocolate with a spatula just until combined.

ASSEMBLE: Transfer about half of the cheesecake batter to the cooled crust and smooth into an even layer. Spoon about two-thirds of the Coconut Pecan Filling evenly over cheesecake and smooth. Top with remaining cheesecake and smooth. Drop pan on the counter a few times to get rid of any air bubbles. Refrigerate remaining ⅓ Coconut Pecan Filling for later.

BAKE: Add cheesecake to water bath and bake at 350 degrees F for 60-75 minutes OR until edges are firm and the center 2-3 inches of the cheesecake is still wobbly. (DON'T open door before 60 minutes, this can cause cracks.)

COOL: Turn off your oven and crack open the oven door. Allow cheesecake to cool in oven for 60 minutes, then remove to a wire rack and gently run a hot knife along the edges of the cheesecake (to prevent cracking) then continue to cool for 2-3 hours or until cheesecake is completely cooled. Cover the top of the cheesecake with foil, so that it doesn't actually touch the cheesecake. Chill in the refrigerator overnight but best if 24 hours.

GARNISH: Remove cheesecake to serving platter. Stir in 1 tablespoon water to Coconut Pecan Filling (now topping) and microwave approximately 30 seconds, or until softened. Spread over cheesecake and top with reserved coconut. The cheesecake can be refrigerated again at this point or served.

CHOCOLATE DRIZZLE (optional): Just before serving, add chocolate and ½ teaspoon shortening to a small microwave safe bowl. Microwave at 30 second intervals, until completely smooth, stirring after every 30 seconds. Add chocolate to a small plastic bag and snip one corner. Drizzle chocolate all over cheesecake.
Did You Make This Recipe?
Tag @CarlsbadCravings and Use #CarlsbadCravngs
Leave a Review, I Always Love Hearing From You!
Carlsbad Cravings© Original