CRISPY JALAPENO POPPER BEEF TAQUITOS BURSTING WITH IRRESISTIBLE CREAMY, CHEESY SPICY (CUSTOMIZABLE) BEEF FILLING ALL COCOONED IN CRISPY TORTILLALAND TORTILLAS!
These easy, cheesy beef taquitos are one of my favorite recipes to come out of my kitchen and will be the touchdown game day (or any day!) appetizer at all your gatherings and parties! You can even make the filling completely ahead of time for an easy roll and toast appetizer!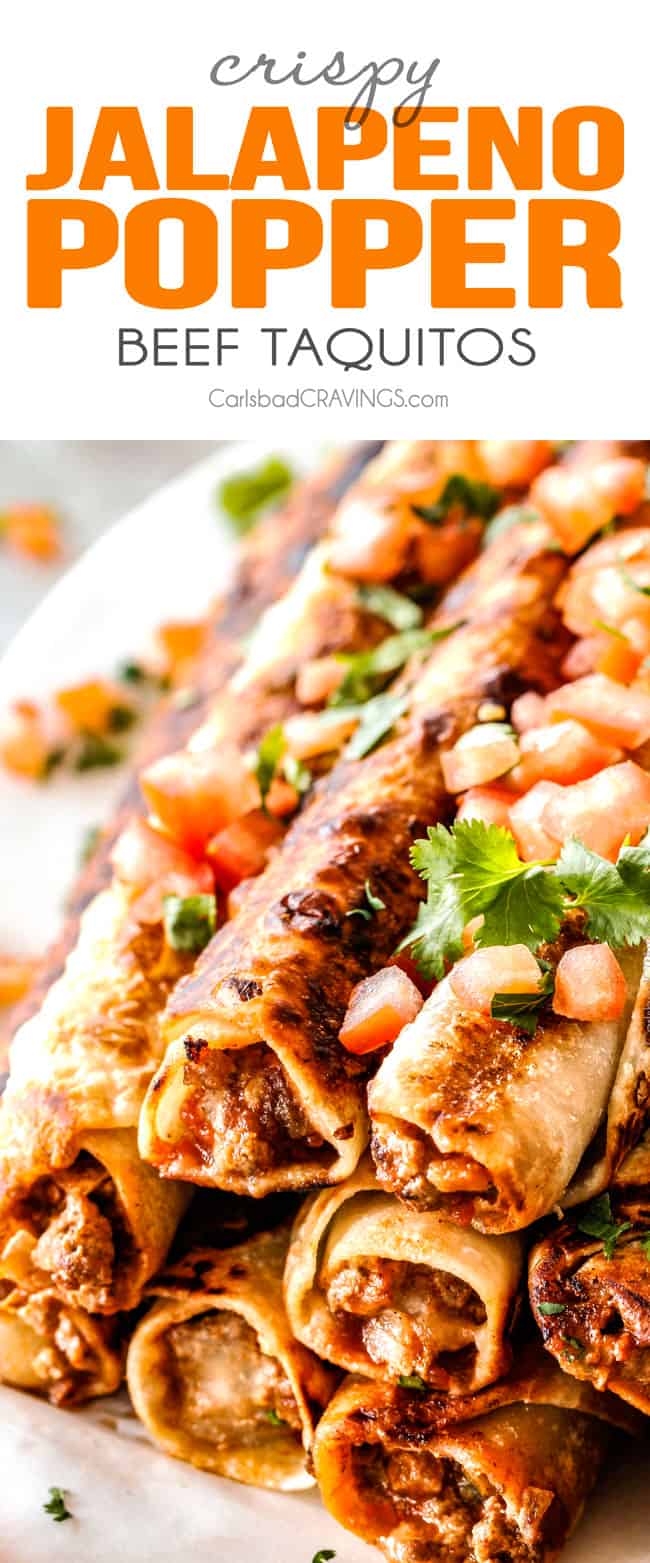 Watch just how easy it is to make these Crispy Jalapeno Popper Beef Taquitos!
I love jalapeno poppers so much so that I've made Jalapeno Popper Dip (a MUST), Jalapeno Popper Muffins and now these Jalapeno Popper Taquitos! There is just something about the ooey, gooey, cheesy spiciness that can't be beat. Or so I thought. Add some beef and some Mexican seasonings and roll the deconstructed jalapeno popper in a tortilla and hello addicting deliciousness!
With this Crispy Jalapeno Popper Beef Taquito recipe yielding 12 taquitos, you would think it would serve 6 but for Patrick and I, it serves 2 because we just could not stop inhaling this beefy cheesy deliciousness. And my friend who made the taquito video? She said they were all gone in seconds after the last shot. We are talking some serious, heavy hitting, undeniable deliciousness.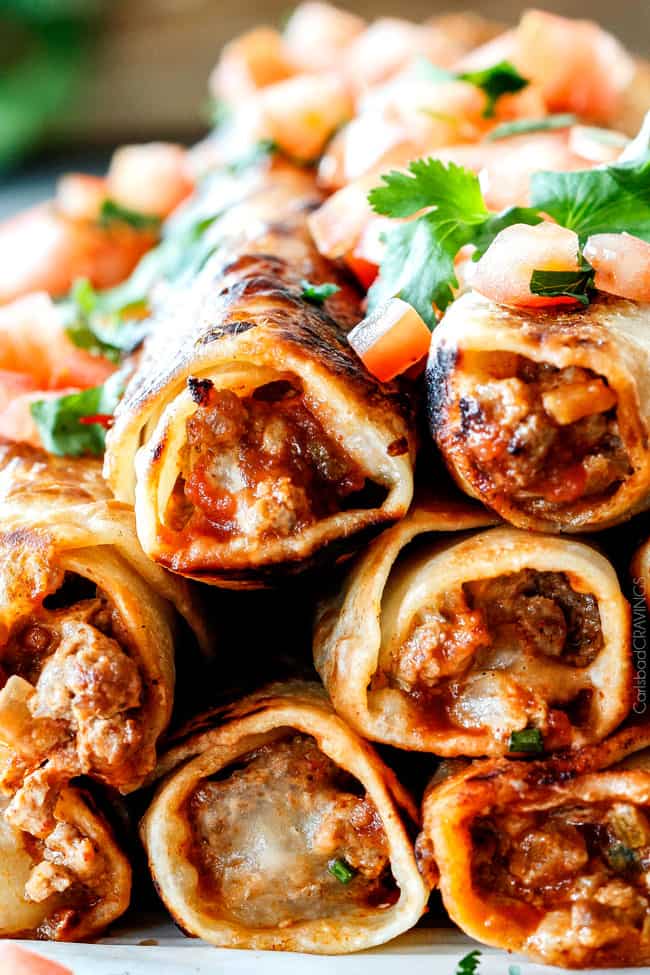 These Crispy Jalapeno Popper Beef Taquitos make a favorite-ever dinner or if you really want to steal the show at your next football party and have every guest begging you for the recipe, serve them as a new unique favorite-ever #partyfood! In addition to their ridiculously delectable filling, these Crispy Jalapeno Popper Beef Taquitos are made with my very favorite TortillaLand tortillas that you purchase raw at Costco so they puff up and crisp up in minutes as you cook them in the skillet. You can cook them without any oil at all but I like to use 1 teaspoon so they get even crispier.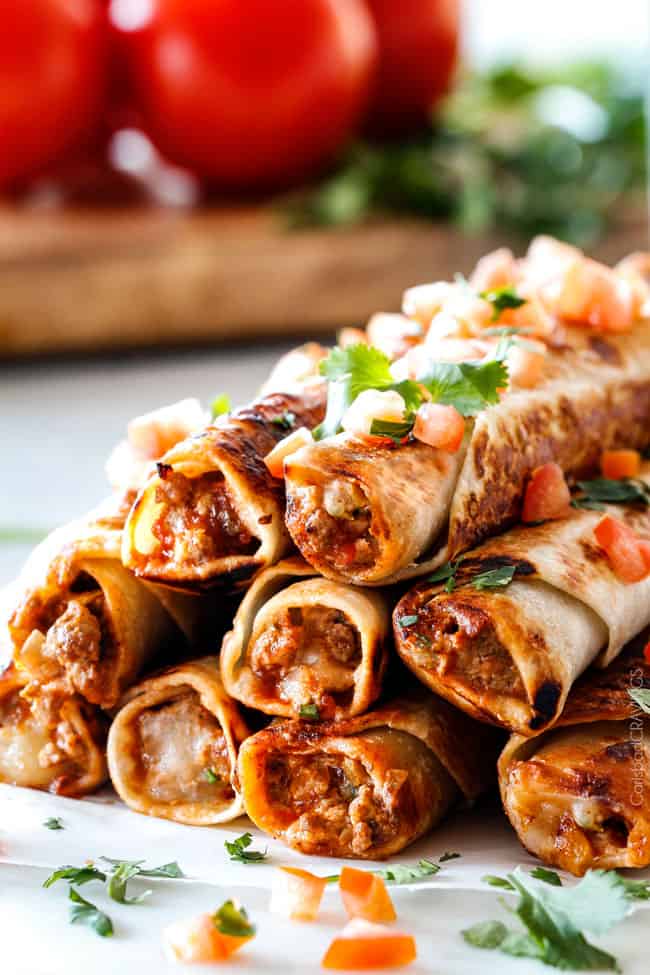 I featured these TortillaLand tortillas specifically in my mouthwatering sweet heat Slow Cooker Honey Buffalo Chicken Taquitos, but I use these tortillas all the time because as my Mexican food connoisseur husband always says, Mexican food is only as good as the tortillas, and these TortillaLand tortillas are the best with far superior texture and fresh taste! TortillaLand tortillas are made of five simple recognizable ingredients – wheat flour, water, canola oil, salt sugar – love the freshness. So #gotortillaland and don't skimp on the TortillaLand tortillas, they truly make a difference!
These Jalapeno Popper Beef Taquitos are done in under 30 minutes so you can be cheering on your favorite team from the sofa instead of the kitchen. To make, simply, brown beef with jalapenos, onions and garlic. Stir in your fiestalicious spices, salsa and cream cheese followed by Pepper Jack Cheese.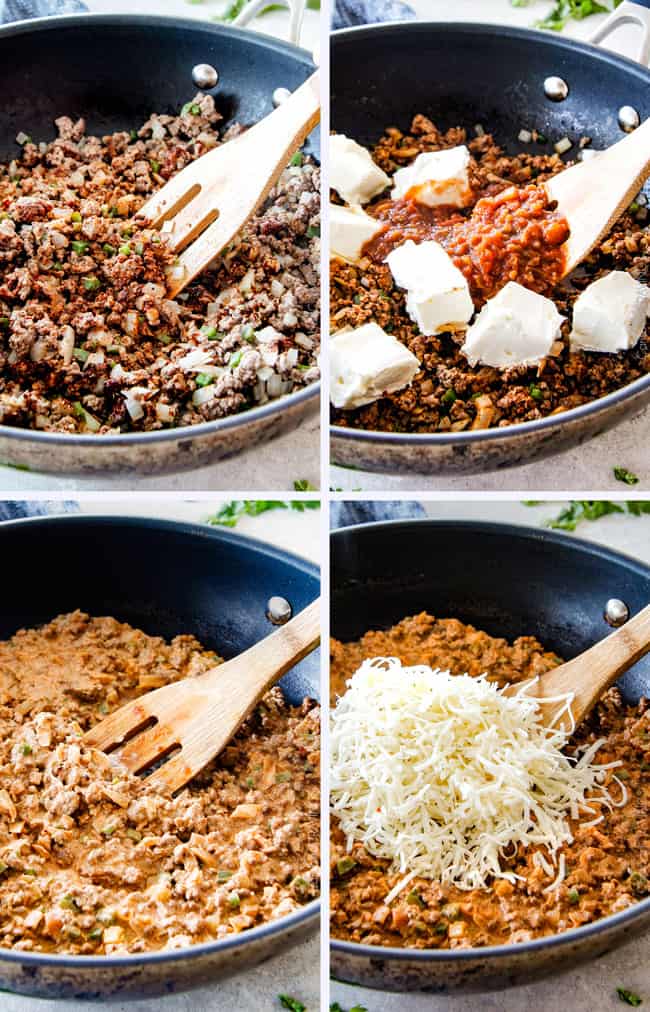 Then roll your creamy, cheesy filling in your TortillaLand tortillas and shower the filling with more cheese.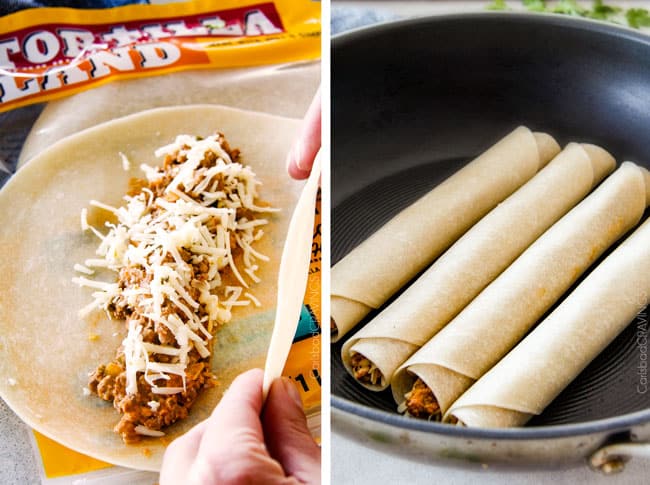 Finally, cook your taquitos in the skillet for just a couple minutes and the TortillaLand uncooked tortillas puff to golden deliciousness. Serve with guacamole, avocado crema, sour cream, Pico de Gallo , Homemade Salsa, or Salsa Verde and either Cilantro lime rice or Restaurant-Style Mexican Rice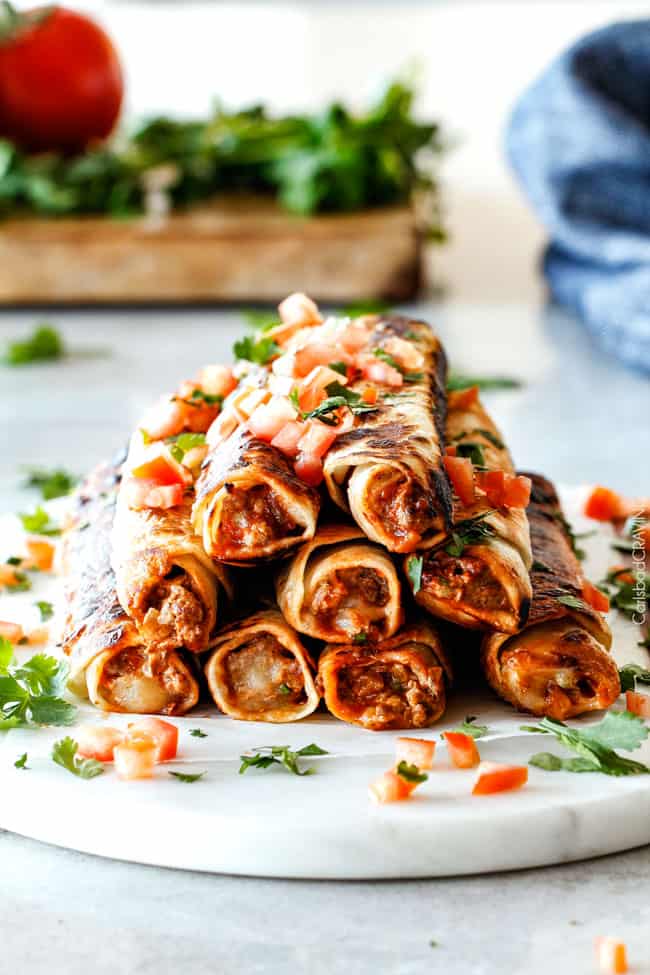 You can find TotillaLand tortillas in the refrigerated section of most Costcos. As I was checking out the cashier started gushing about how much she loved these tortillas – this happens almost every single time I purchase them, so often in fact, I posted about it last year! If you would like to start gushing too, find your TortillaLand tortillas at Costco and make these Cripsy Jalapeno Popper Beef Taquitos ASAP!
Happy cooking and better yet, happy eating!
Looking for More Taquito Recipes?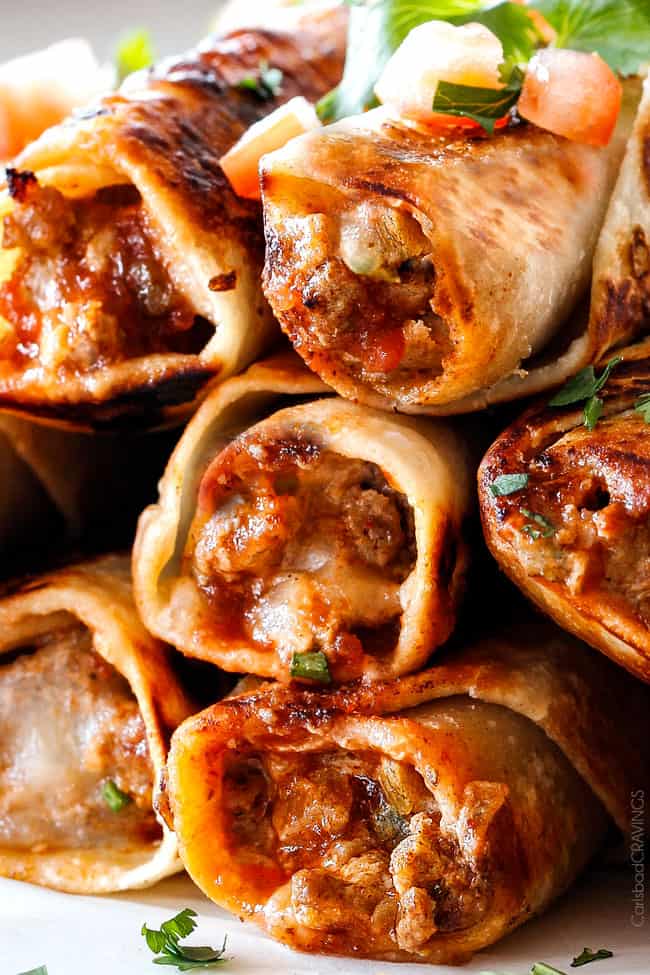 WANT TO TRY THESE CRISPY JALAPENO POPPER BEEF TAQUITOS?
Pin them to your BEEF, APPETIZER, DINNER or MEXICAN Board to SAVE for later!
Find me on Pinterest for more great recipes! I am always pinning :)!
©Carlsbad Cravings by CarlsbadCravings.com
Crispy Jalapeno Popper Beef Taquitos
Crispy Jalapeno Popper Beef Taquitos bursting with irresistible creamy, cheesy spicy (customizable) beef filling all cocooned in crispy TortillaLand tortillas!  These easy, cheesy beef taquitos are one of my favorite recipes to come out of my kitchen and will be the touchdown game day (or any day!) appetizer at all your gatherings and parties!
Save This Recipe To Your Recipe Box
You can now create an account on our site and save your favorite recipes all in one place!
Ingredients
12

TortillaLand raw medium tortillas

1

pound

lean ground beef

1/2

small onion, chopped

2-4

jalapenos, seeded, deveined, diced

1 1/2

teaspoons

chili powder

1

teaspoon

ground cumin

1/2

teaspoon

smoked paprika

1/2

teaspoon

salt

1/4

teaspoon

dried oregano

8

oz.

cream cheese, softened

1/2

cup

salsa

(medium for more of a kick)

2

cups

freshly grated Pepper Jack cheese, divided
Instructions
Add beef, jalapenos and onions to a large skillet and cook over medium heat until onions are softened and meat is cooked through. Add garlic and sauté for 30 seconds. Drain off any excess fat (if there is any).

Stir in all of the spices/seasonings, followed by salsa and cream cheese. Heat over medium low heat until cream cheese is completely melted, stirring often. Stir in 1 cup pepper Jack cheese until melted. Remove from heat.

To assemble, add a heaping ¼ cup filling to the bottom third of each raw tortilla and top with a heaping tablespoon cheese. Tightly roll up tortillas.

Heat one teaspoon olive oil in a large nonstick skillet over medium heat (optional for extra crispiness). Working in batches, add taquitos and cook, until golden brown on all sides, rotating as needed.
Did You Make This Recipe?
Tag @CarlsbadCravings and Use #CarlsbadCravngs
Leave a Review, I Always Love Hearing From You!
©Carlsbad Cravings Original