Crazy juicy, tender Grilled Cajun Steak seeping with flavor from the most amazing Cajun steak marinade and Cajun spice rub all complimented by sweet tangy Apricot Orange Glaze that is lick your plate delicious! Incredible alone or makes the most amazing sandwiches and wraps!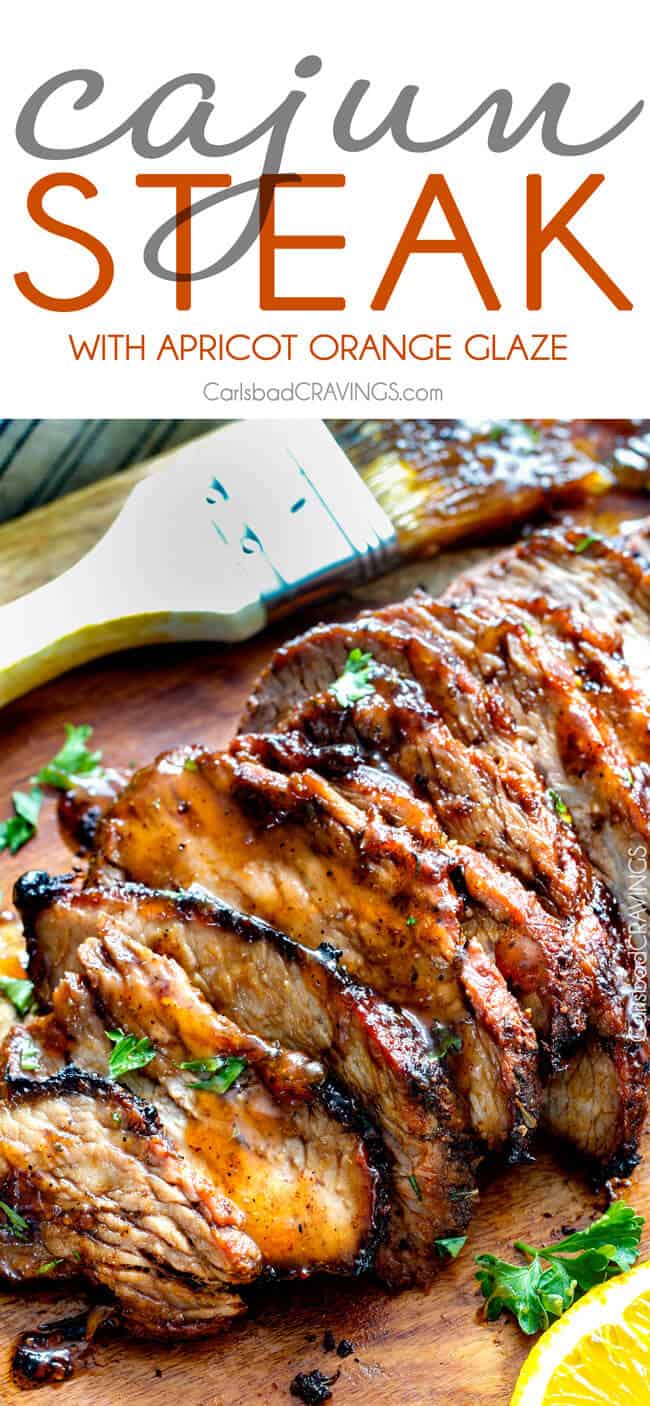 I kind of missed the boat in posting this Grilled Cajun Steak in time for Labor Day so although you don't have a dedicated holiday to grill up this juicy, Cajun rubbed hunk of deliciousness, I hope you still fire up the grill all the same and simply celebrate LIFE with this Cajun Steak!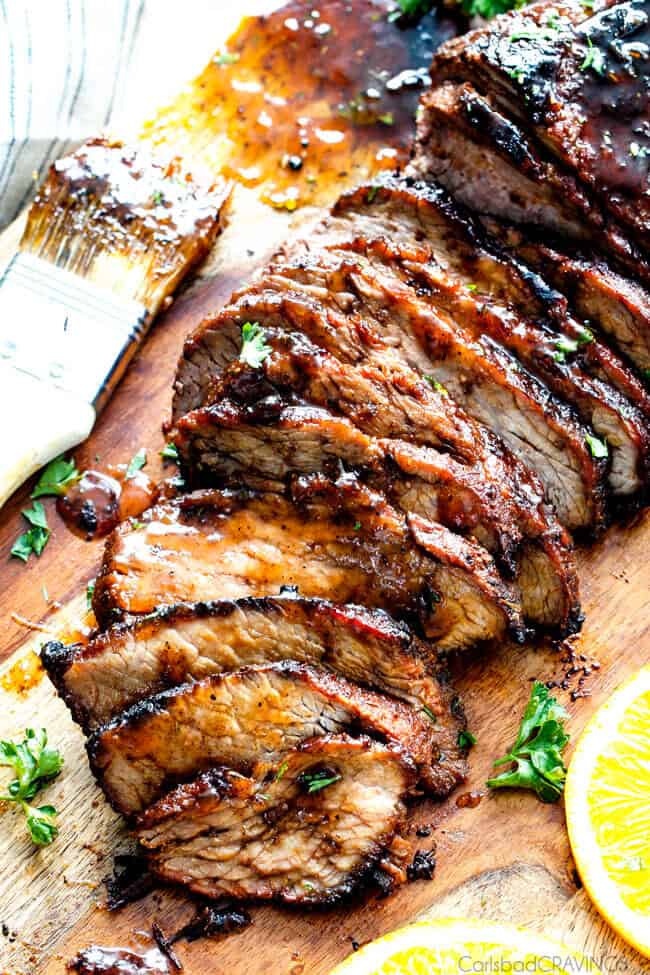 In addition to this steak, I'm celebrating life this week by heading to Kauai with some blogging friends so if you aren't following me on Instagram and want to join the fun, I'm going to be posting plenty of Instagram Stories so come say hi! and eat steak.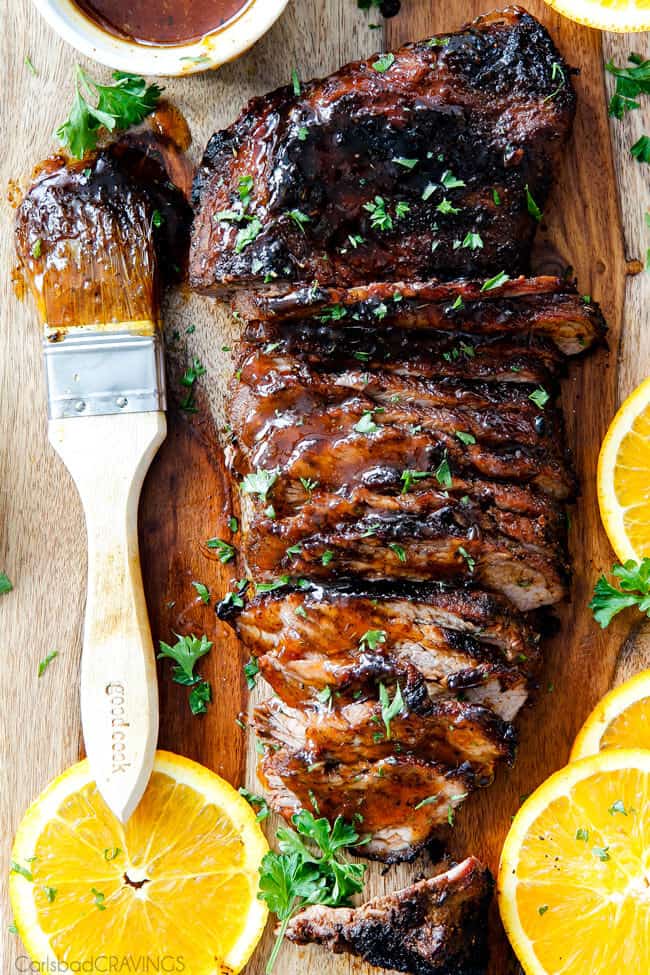 I had already taken my photos of this Cajun Steak and I was ready to pack up the no longer warm leftovers when two friends came over to help us move a few large pieces of furniture. They told me they were "full" and had already eaten dinner but in just a few minutes only a sliver of steak remained. Even one of our friend's daughters had her fair share. I think they liked it.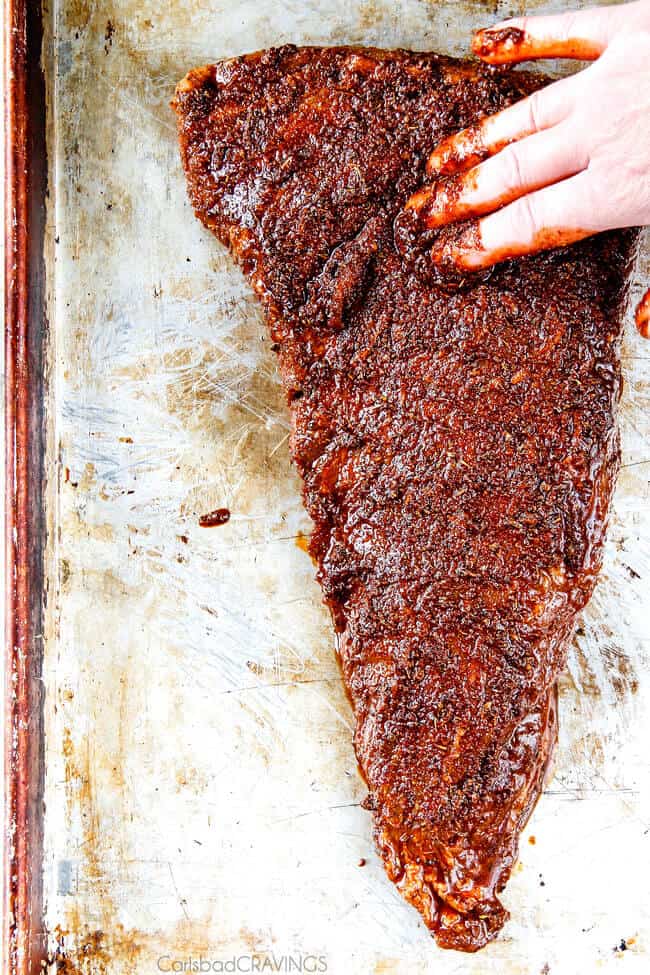 And what is not to love about this restaurant quality Cajun steak?! Its seeping with flavor through and through thanks to both a Cajun Steak Marinade and Cajun Rub. The incredibly juicy steak is infused with a quick whisking of soy sauce, Worcestershire sauce, orange juice, brown sugar and some homemade Cajun Spices that you let envelop your steak for 8-24 hours, the longer the better in my opinion.
When you are ready to fire up the grill, you smother your steak in a custom delectable Cajun Spice Mix consisting of paprika, smoked paprika, chili powder, onion, powder, garlic powder, oregano, basil, thyme and of course cayenne pepper. I don't find the mix too spicy but it does have a little kick to it – hopefully just the right amount for you and yours.
I used my favorite cut of steak – tri-tip roast that I first mentioned in my Asian Steak with Cilantro Basil Chimichurri. It's a thick, incredibly juicy steak with rich flavor, relatively lean and inexpensive and soaks up marinades like a sponge. The term "tri-tip" is derived from the fact that the roast is triangular in shape (tri) and it is the tip of the sirloin (tip). This cut of steak can be harder to come by in supermarkets outside of California, although Costco nationwide always seems to carry it. If you can't find tri-tip for whatever reason, feel free to use a thick sirloin or your favorite cut of steak and adjust grilling time accordingly.
Finally, the heat of the Cajun Steak is balanced and complimented by the sweet tang of Apricot Orange Glaze. Its a simple whisking and simmering of apricot preseres, orange juice, soy sauce, Dijon and brown sugar. Just listing those ingredients makes me drool a little. If only the mover friends hadn't eaten all the steak…

WHAT SHOULD I SERVE WITH WITH CAJUN STEAK?
Looking for more steak recipes?
Want to try this Cajun Steak with Apricot Orange Glaze?
Pin it to your STEAK, GRILL, or DINNER Board to SAVE for later!
Find me on Pinterest for more great recipes!  I am always pinning :)!
©Carlsbad Cravings by CarlsbadCravings.com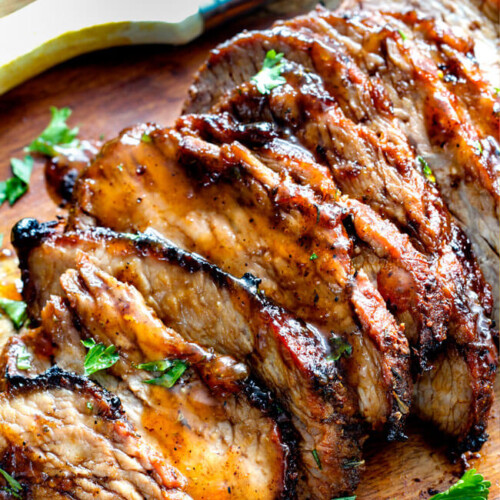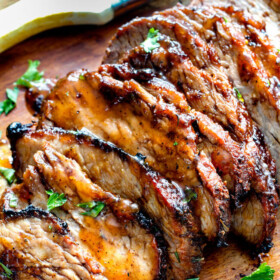 Cajun Steak with Apricot Orange Glaze
Save This Recipe To Your Recipe Box
You can now create an account on our site and save your favorite recipes all in one place!
Ingredients
Instructions
Spice Rub/Marinade: In a medium bowl, whisk together the Cajun Spice Mix. Add 2 tablespoons to a freezer size plastic bag along with all of the Marinade ingredients. Whisk together. Pierce steak all over with a fork and add to marinade. Massage marinade into steak and seal bag. Marinate 8-24 hours, turning bag occasionally. Store remaining Reserved Cajun Spice Rub in a sealed container/bag.

When ready to grill, remove 1 teaspoon Reserved Cajun Spice Rub and add it to a small saucepan for your Apricot Orange Glaze. Whisk all remaining Cajun Spice Rub with 3 tablespoons olive oil and rub all over steak while it comes to room temperature – 30-60 minutes. (There will seem like a lot of rub which is a good thing)

Grill: Grease and preheat grill to 400 degrees F. Sear roast for 3-5 minutes per side, cover, and turn heat down to 350 degrees F. Grill for 15 minutes, flip, cover, and cook an additional 10-20 minutes, depending on the size of your steak cut and how well done you want your steak. Watch closely that your temperature stays around 350 degrees F.

Check for doneness with a meat thermometer inserted right in the middle of the steak. Thermometer should read: 135 degrees F for medium rare, 145 degrees F for medium. The outside of the roast will get quite dark with a charred crust which is exactly what you want with this cut of steak.

Remove steak from grill, loosely tent with foil and let rest 10 minutes before slicing THINLY across the grain. Serve with Apricot Orange Glaze (recipe follows).

Apricot Orange Glaze: While the steak is grilling, whisk together all of the Apricot Orange Glaze ingredients in small sauce pan with reserved 1 teaspoon Cajun Spice Mix. Bring to a boil then reduce to a simmer until reduced and thickened.
Did You Make This Recipe?
Tag @CarlsbadCravings and Use #CarlsbadCravngs
Leave a Review, I Always Love Hearing From You!
Carlsbad Cravings© Original