Chinese Pineapple Chicken can be baked or stir fried then smothered in sticky sweet pineapple sauce with a ginger Sriracha kick that is WAY better than takeout.   
This Baked Chinese Pineapple Chicken recipe might just become your favorite chicken – ever.  Every bite is a an explosion of tropical flavor paradise and you can customize it with any veggies, rice, noodles/zoodles, etc! There are so many ways to eat these delicious Pineapple Ginger Chicken!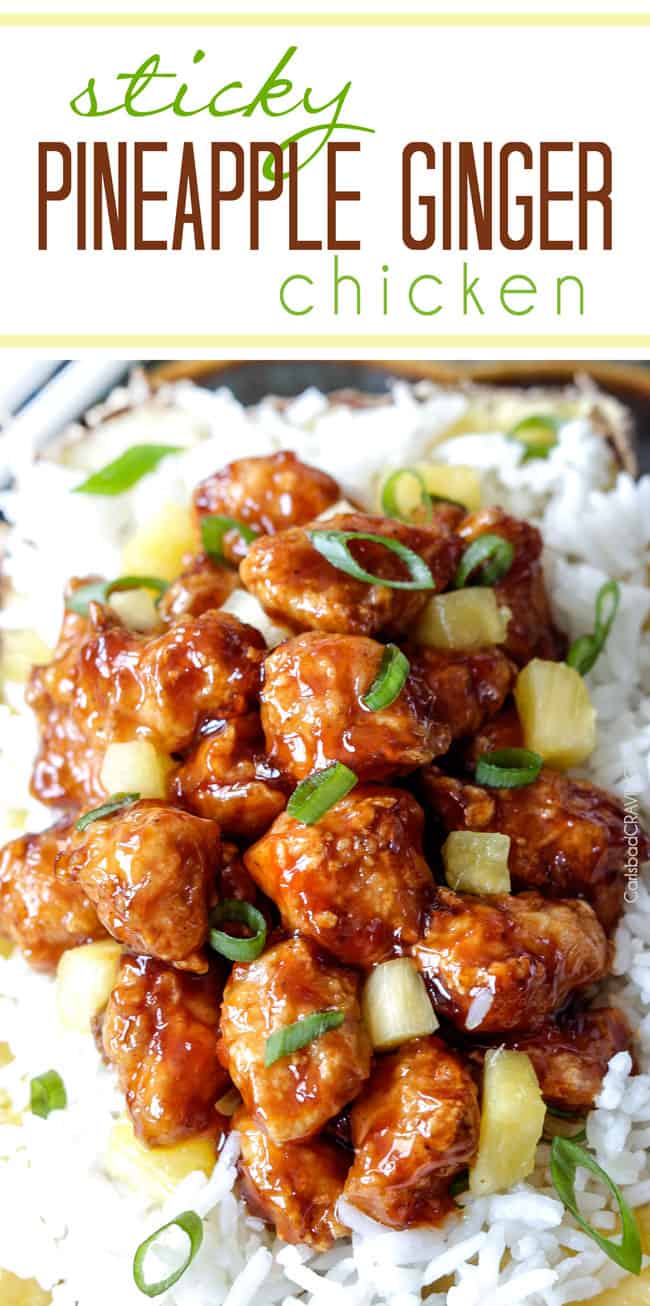 BAKED Pineapple Chicken Recipe
Since I started blogging last year, I have discovered the best and hardest part for me are the food pictures.  "Best" because I now love taking pictures (it's been quite the learning curve from never picking up a nice camera before – evidence in all my early pics to these Baked Pineapple Chicken pics).   "Worst" because I have to look at the pics and then I get hungry.
Guys, like I'm hungry all the time.
Or maybe hungry isn't the best word — I am craving all the time.  I'm usually craving whatever I am posting next because as I sit here and decide what pictures to post, and relive the flavors of every bite so I can try and describe them (but never do them justice), my mouth begins to water and my belly begins to yearn.  Yearn for Chinese Pineapple Chicken.
Another thing about being a food blogger is we are always concocting and perfecting new recipes so once they get photographed and posted, its onto something new because the weeks keep coming and we need to keep posting.  Its always a bittersweet "goodbye" of deliciousness.  But not this time.  Not you Baked Pineapple Chicken, I just love you too much to part!
– And this is when I proceeded to stop writing and make my Pineapple Chicken – again –
Hello gorgeous. I missed you.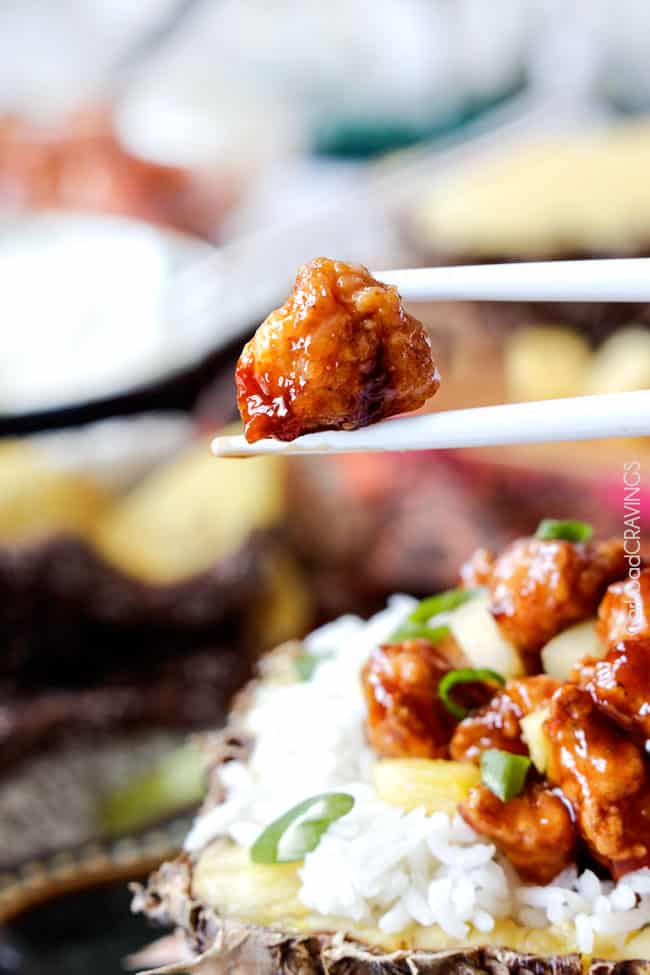 It felt so freeing to feed my cravings. My cravings for sticky sweet pineapple sauce concocted of tropical pineapple juice, pineapple preserves, soy sauce, sweet brown sugar, tangy red wine vinegar, garlic and a kick of ginger and sriracha. I love this sauce.
I love this sauce smothering every nook and cranny of baked chicken breaded in spiced flour with ginger, paprika, garlic and onion so every bite is an explosion of tropical flavor paradise. Far better than any restaurant as far as my critic is concerned. I agree with my critic on this one.
I used my traditional preparation method of breading and baking chicken for tender, flavorful crispy morsels BUT the aforementioned time I interrupted this post to make it, I stir fried the chicken after shaking in some cornstarch and the spices instead. The chicken doesn't get crispy, but it is still out-of-this-world nestled in a soft spiced breading.
So, if you are short on time or patience, I recommend the stir fry method, which I have also included in the recipe instructions.  Either way, just make this Chinese Pineapple Chicken.  LOVE this chicken. Repeat.  Repeat often so I can live vicariously through you.  Aaaannd  you can live vicariously through me for all the recipe posts you haven't made yet. Win. Win.  And even bigger win when you make this chicken.
Baked Chinese Pineapple Chicken.  Don't keep her waiting.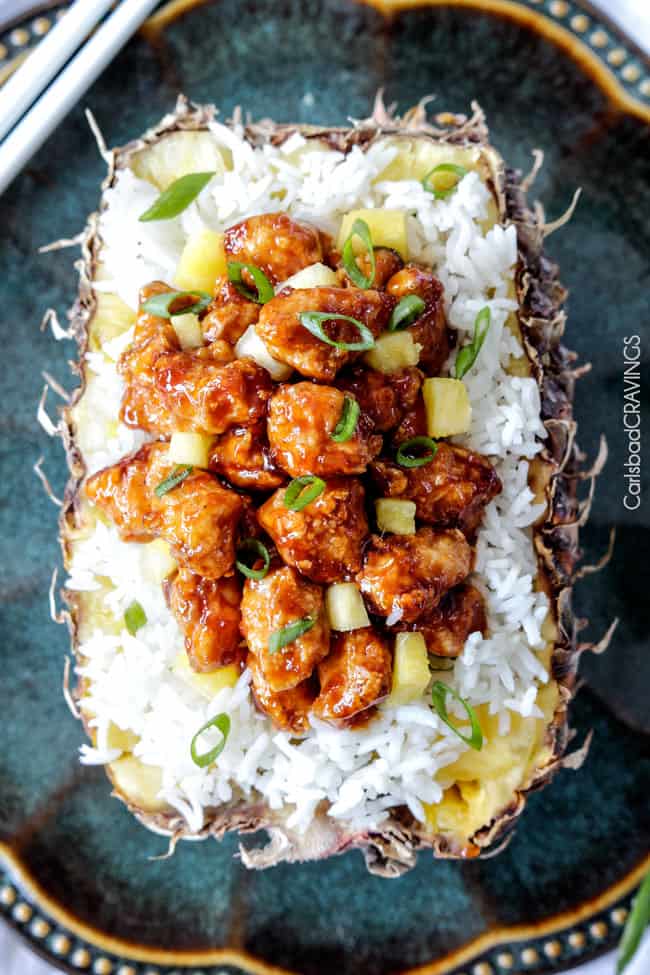 Baked Pineapple Chicken Ingredients
In about 30 minutes, you'll be ready to dive into a homemade Pineapple Chicken bowl! Here's what you'll need to make this recipe:
Chicken breasts: Need to be pounded thin and cut into even-sized pieces.
Eggs: The chicken is dipped in an egg wash first so the breading sticks to it easily.
Coconut oil: You can use olive oil if desired, but I think coconut oil complements the pineapple flavor nicely.
Flour: If stir frying, use extra cornstarch rather than flour.
Cornstarch: Makes the chicken super crispy.
Spices: I used a blend of garlic powder, paprika, ground ginger, and more to flavor this dish!
Pineapple juice: You can find canned pineapple juice at any grocery store.
Pineapple preserves: Adds multidimensional fruity sweetness and intense pineapple flavor.
Soy sauce: Use reduced sodium soy sauce to control the amount of slt in this dish.
Red wine vinegar: Adds a fruity tang which complements the pineapple juice.
Brown sugar: Adds a little sweetness and balances out the tang of the pineapple juice.
Garlic: Just three cloves flavors the sauce nicely.
Ginger: I used a combination of fresh and dried ginger to amp up the flavor.
Asian hot red chili sauce: Something like Sriracha would be perfect.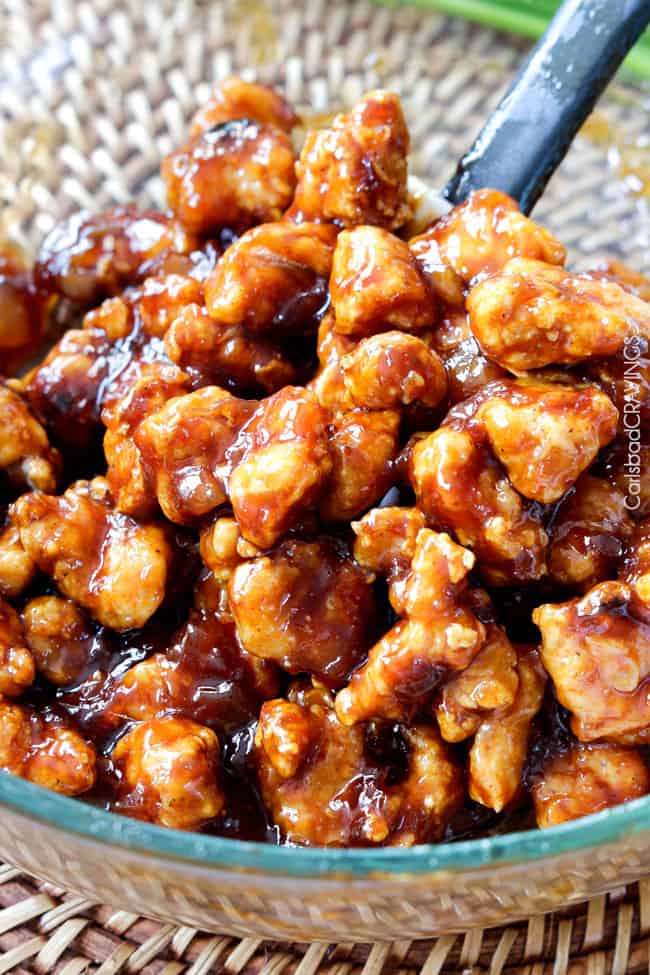 How to Make Baked Pineapple Chicken
This Chinese Pineapple Chicken is a breeze to make! Here are the basic steps:
In a large bowl, whisk 2 eggs and 2 tablespoons water together.
Combine the breading ingredients in large freezer bag.
Dip the chicken pieces in the egg wash, let excess drip off, then place chicken in the flour mixture and shake until evenly coated.
Evenly space chicken on a cooking rack that's been set on top of a baking sheet and lightly spray chicken with cooking spray.
Bake at 375 degrees F for 10 minutes then move baking sheet 8-10 inches away from broiler and broil to desired crispiness.
While the chicken cooks, make the pineapple sauce. Coat the chicken in the sauce when done.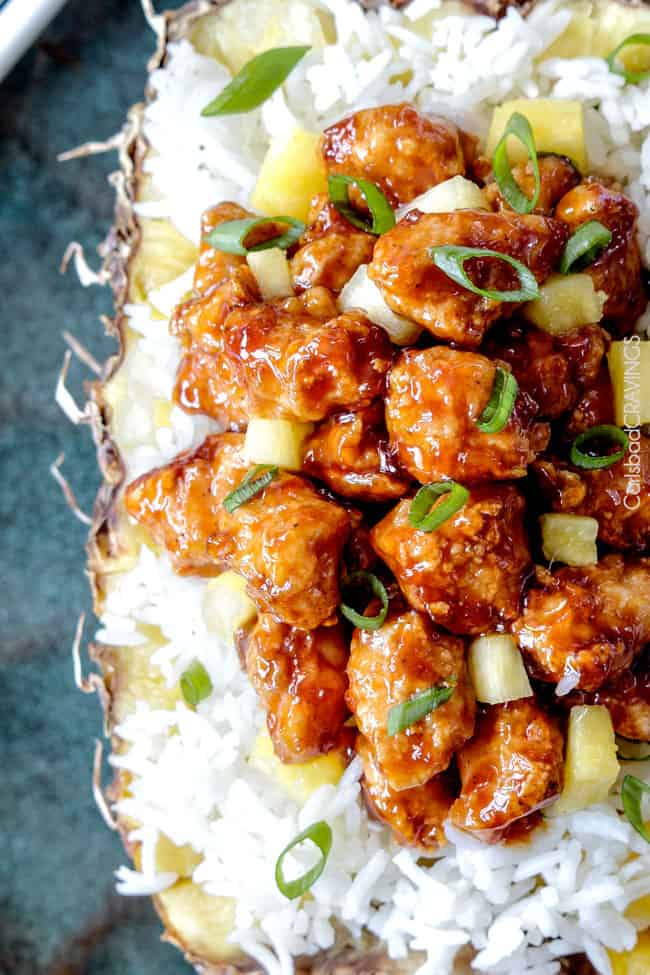 Tips for Making Chinese Pineapple Chicken
Use clean hands. I love using a bag to shake the chicken in the breading because it keeps the chicken from becoming a gooey mess. Just make sure your hands are clean and dry when you remove the chicken.
Don't chop chicken to small. The chicken should be chopped 1" thick, erroring on the side of larger so that it doesn't overcook and dry out.
Bread the chicken in small batches. By adding only half of the chicken to the flour, it is able to move around and shake around better to become fully coated. If you notice any of the chicken isn't fully coated when you're removing it, give it another toss in the flour with a clean hand.
Recipe Variations to Try
If this Baked Pineapple Chicken recipe isn't exactly how you want it, MAKE it how you want it! It is easy to customize the sauce by:
add sweet heat with sweet chili sauce
spice it up with additional chili sauce or red pepper flakes
make it tangier by adding additional red wine vinegar
amp up the garlic and/or ginger for a stronger punch of flavor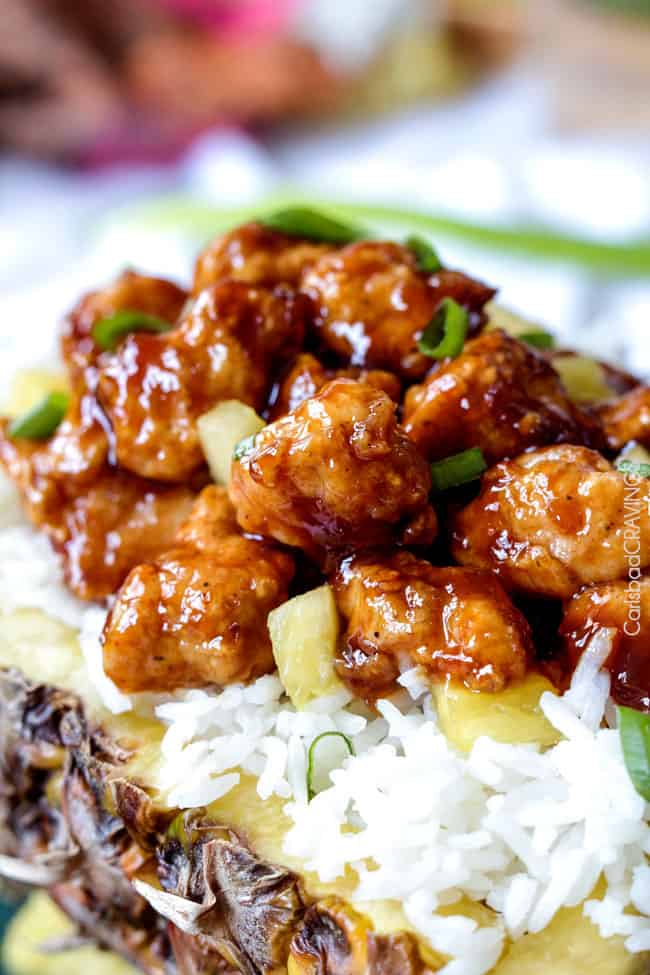 Can I Prep baked Pineapple Chicken in Advance?
Even though this Chinese Pineapple Chicken is quick to make, you can still prepare it in stages if that works better for you.
Pineapple Sauce: Whisk the pineapple sauce ingredients together but do not simmer/thicken. Store it in an airtight container in the refrigerator.
Breading: Whisk the flour breading ingredients together in a Ziploc freezer bag. You can store the breading for weeks or proceed to dredge chicken then refrigerate.
Chicken: Prepare chicken through dredging and place on a greased cooking rack placed on a baking sheet. Cover the chicken tightly with foil or plastic wrap. Let sit at room temperature for 20 minutes before cooking.
How to Store Chinese Pineapple Chicken
This Baked Pineapple Chicken recipe is best served fresh because it is at peak crispiness, sauciness and the chicken is the juiciest.  You will find leftover chicken is not quite crispy or as flavorful.  However, leftovers can be stored in the fridge for up to 5 days.
How to Reheat Baked Pineapple Chicken
How to reheat on the stove: Leftovers are best reheated on the stove, even if they are small portions. To reheat, heat a drizzle of vegetable, canola or peanut oil over medium heat. Once hot, add the chicken, stirring occasionally until warmed through.
Reheating in microwave: Microwaving leftovers is not advised as the chicken can become rubbery and the breading will definitely not be crispy. It is better to reheat in the skillet.
Can I Freeze Baked Pineapple Chicken?
If you are making Baked Pineapple Chicken specifically to freeze, then I recommend freezing the chicken and sauce separately so the chicken doesn't get soggy. 
TO FREEZE CHICKEN WITHOUT PINEAPPLE SAUCE:
Cook chicken according to directions.
Let chicken cool to room temperature (on the baking sheet) then transfer baking sheet to the freezer.
Let freeze for 1-2 hours or until the chicken is solid. This prevents the chicken from clumping together.
Add chicken to a freezer size bag, squeeze out excess air and label.
Add pineapple sauce to a separate airtight container.
When ready to use, defrost chicken and sauce in the refrigerator overnight.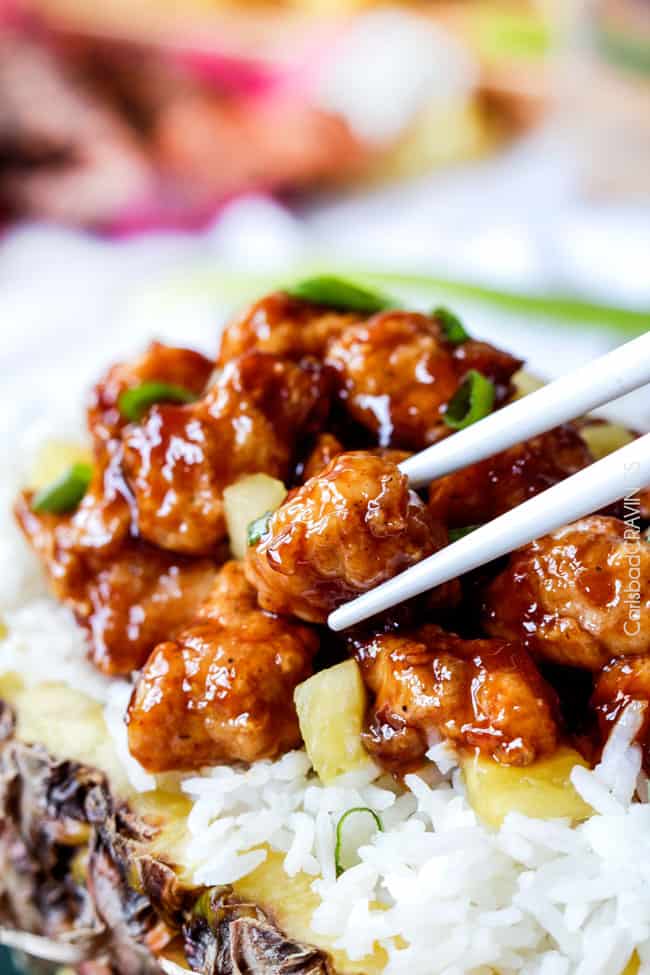 What to Serve with Chinese Pineapple Chicken
For me, Chinese Pineapple Chicken and rice is the best combination! However, you can make pineapple chicken bowls a few different ways:
RICE OPTIONS
Rice. I like jasmine rice or brown rice but any rice will work. Just pop the rice in your rice cooker for a hands' off, easy side. You can also use microwave rice pouches if you're making a serving for one or meal prep.
Low carb. Cauliflower rice, quinoa, broccoli rice or a blend of brown rice and any of the aforementioned options. You can also use low carb noodles such as zoodles or spaghetti squash.
Noodles. Ramen, soba noodles, rice noodles or even linguine are a fun way to mix things up!
IN ADDITION TO RICE, YOU CAN SERVE Pineapple CHICKEN WITH:
Appetizers: Chicken Lettuce Wraps, Pineapple Cream Cheese Wontons, Sesame Chicken Egg Rolls, Sweet and Sour Chicken Egg Rolls or Chinese Chicken Wings.
Soup: Let the Chinese feast continue with soup! I love to warm up to Egg Drop Soup which is SUPER easy and always a sultry, satisfying favorite.
Veggies. You can stir fry any veggies your heart desires from broccoli, to bell peppers, to mushrooms, to carrots, etc. or you can serve with roasted veggies such as my favorite Honey Sriracha Roasted Brussels Sprouts – so good! You can also serve with Roasted Broccoli, Roasted Broccolini, Roasted Cauliflower, Roasted Carrots, or Roasted Squash. When roasting veggies to serve with Asian dishes, I like to add a ginger, garlic, salt, pepper and Chinese 5 spice.
Shortcut Veggies. You can purchase pre-chopped veggies perfect for stir fries or use a frozen stir-fry blend or steam-in-the-bag microwavable frozen veggies.
Salad: Crunchy Asian Salad, Chinese Salad, or Asian Pineapple Salad.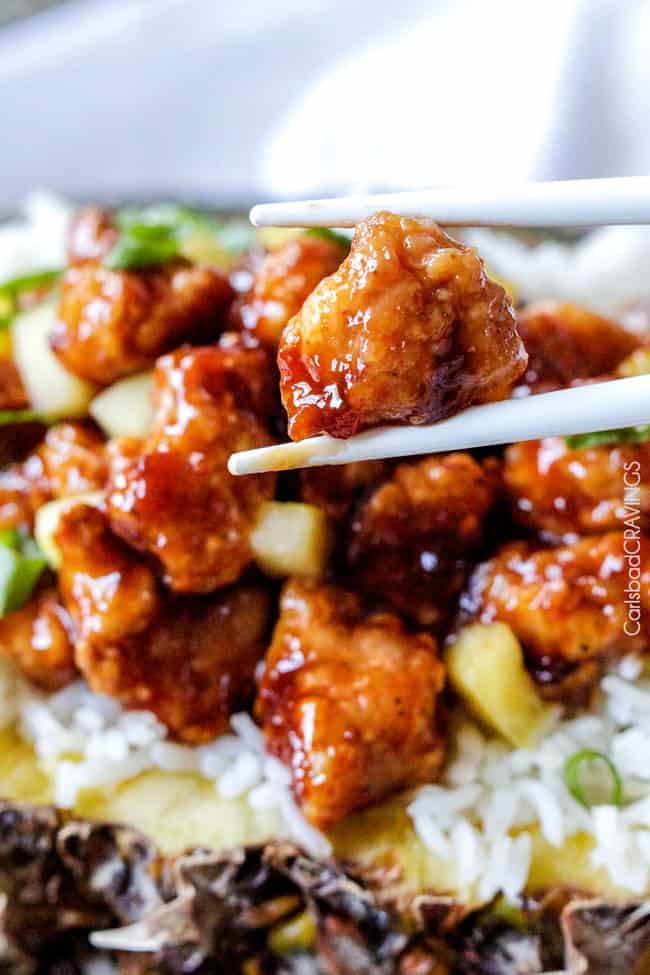 More Easy Asian Dinner Recipes: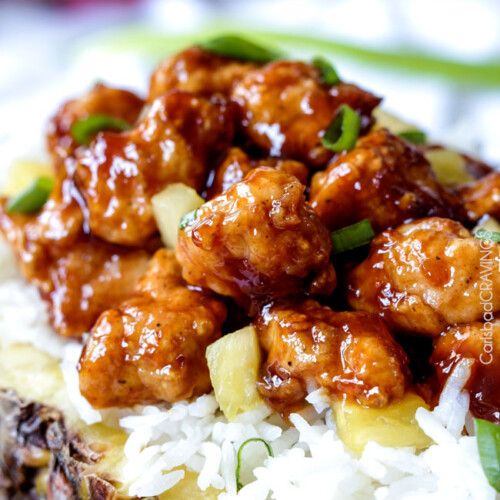 Pineapple Chicken
Pineapple Chicken can be baked or stir fried then smothered in sticky sweet pineapple sauce with a ginger
Sriracha
kick that is WAY better than takeout. This Pineapple Ginger Chicken recipe might just become your favorite chicken – ever. 
Save This Recipe To Your Recipe Box
You can now create an account on our site and save your favorite recipes all in one place!
Ingredients
1 1/2

pounds

chicken breasts

pounded thin, cut into bite size pieces

2

eggs

2

tablespoons

water

nonstick cooking spray
Chicken Breading
1

cup

flour

2

tablespoons

cornstarch

1

tsp EACH

garlic pwdr, paprika

1/2

tsp EACH

ground ginger, onion pwdr, salt, pepper
Instructions
Line a baking sheet with aluminum foil (for easy cleanup) and place a cooking rack on top; lightly spray cooking rack with cooking spray (if you don't have a cooking rack, you can place chicken directly on foil that has been greased).

In a large bowl, whisk 2 eggs and 2 tablespoons water together. Combine Chicken Breading ingredients in large freezer bag. Dip the chicken pieces in the egg wash, let excess drip off (dabbing with paper towel if necessary) then place chicken in the flour mixture and shake until evenly coated. Evenly space chicken on cooking rack and lightly spray chicken with cooking spray.**

Bake at 375 degrees for 10 minutes then move baking sheet 8-10 inches away from broiler and broil to desired crispiness (approximately 5-10 minutes). For extra crispiness, flip chicken over and broil the other side of chicken to desired crispiness, being careful not to burn chicken.

While the chicken is baking, heat 1 teaspoon coconut oil/olive oil in a small saucepan over medium heat. Add garlic and ginger and sauté for 30 seconds. Add the remaining Pineapple Ginger Sauce ingredients and whisk to combine. Bring sauce to a boil, then reduce heat and simmer until sauce thickens (approximately 3 minutes). Taste and add additional Sriracha if desired.

In a large bowl, toss baked chicken with Pineapple Ginger Sauce using a spatula until evenly coated. Serve with rice.
Notes
**If you want to stir fry the chicken instead of bake (not crispy but still delicious), then skip egg/water wash and add a heaping ½ cup cornstarch (INSTEAD of 1 cup flour) to a freezer bag along with Chicken Breading ingredients and mix to combine. Add chicken and toss until evenly coated. Heat 2 tablespoon olive/coconut oil over medium heat in a large nonstick skillet. Add chicken and let cook 2 minutes undisturbed then continue to stir fry until cooked through, about 5-7 minutes.
Did You Make This Recipe?
Tag @CarlsbadCravings and Use #CarlsbadCravngs
Leave a Review, I Always Love Hearing From You!
Carlsbad Cravings© Original